Start Your Healthy Evolution!
We invite you to attend one of our full-immersion wellness programs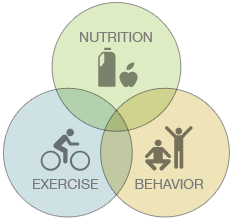 We offer a unique combination of nutrition, exercise, and behavioral instruction focused on overall health.
Bald Head Island is an inspiring, magical place and its natural beauty and amenities make it a perfect choice for you to focus on living a healthier lifestyle. The Bald Head Island Center for Wellness offers a unique combination of nutrition, exercise and behavioral health instruction focused exclusively on improving your overall health and well-being. The Center teaches day-to-day tools for healthier living that delivers an overall lifestyle change. The Center is committed to provide you with an environment that is rich in experience, and will continue to inspire you to reach your goals. To further optimize your results, the number of participants in each program is kept small assuring a high degree of personal attention and participation.
Our experienced wellness team of registered dietitians, lifestyle coaches, personal trainers, and gourmet chefs all coordinate our holistic approach to wellness. Each health professional brings a unique approach to ensure sustainable weight loss and are committed to help you on your journey to renewing your mind, body, and spirit.
Travel to Bald Head Island and become a healthier you!
Innovative and highly successful full-immersion wellness program
Custom designed gourmet meals & snacks
Advanced technology used to enhance weight loss

Participants in our wellness programs will be shown how to utilize a variety of helpful wellness and guided meditation apps for use on the mobile devices.

Focused individualized guidance and personalized encouragement
Unique comprehensive approach to weight management
We are extremely proud of the feedback we have received from our clients over the years. Below are a couple testimonials from a few of our clients:
"The staff at the BHI Center for Wellness are the greatest—Patient, knowledgeable, accommodating. They devoted so much to each of us and always found ways to turn us around. I felt they put their heart and soul into making this a personalized wellness retreat. Participating in a full-immersion wellness retreat in a beautiful place like Bald Head Island is an ideal way for people to begin to rethink lifestyle choices while they are relaxed and happy. I would go back in a heartbeat!"
– Jane (Fuquay-Varina, NC)
"This program exceeded my expectations. Informational, lots of personal attention and ample opportunities to ask my questions and focus on my needs. Wonderfully supportive and patient!
The week I spent with Cathie and the entire BHI Wellness team was a life changer. It's not that I didn't already know which foods were nutritious and which were not, but the way the team helped me integrate food and exercise information into the specifics of MY life was what made the difference. The program and on-going support focused on what worked for me and my goals, and provided suggestions that addressed my situation. The entire team was professional as well as warm and friendly. This allowed me to be honest and be myself, which helped assure my success. I continue to enjoy my healthy lifestyle, increased personal confidence, and the compliments I receive from friends and colleagues! I have already recommended the BHI Wellness program to a number of people, and would recommend it to anyone who wants a team that is knowledgeable, personable, and supportive to their individual needs."
– Sandi (Wilmington, NC)
"Cathie, Paul, and their team provided an exceptional experience with their wellness program. They were professional in all aspects of their program. The wellness retreat gave me the kick start that I needed to start taking care of me."
– Leslie (Cary, NC)
"My 40th birthday was approaching and I was looking all over the country for a program that expressed mind, body and soul. To find a wellness program at Bald Head Island was unbelievable. The island has been a special place since I was a little girl.
The Wellness week offered in-depth knowledge regarding nutrition, exercise and well being, which helped me achieve my ultimate goal...a healthy lifestyle. It was a mindful experience that has enhanced my journey to feel balanced. My family is completely involved and we are all on board to make healthy choices and feel better."
– Jill (Laurens, SC)
» learn more

PRWeb News Press Release:
The BHI Center for Wellness Offers Complete Lifestyle Makeover

Full-immersion wellness retreat on Bald Head Island, NC combines nutrition, exercise and behavioral health instruction to promote weight loss and weight management.

The Bald Head Island Center for Wellness, a North Carolina-based group, is making great strides in addressing these health issues with week long full-immersion Wellness Retreats. Their upcoming program, happening May 11-16, 2018 on Bald Head Island, is a uniquely-tailored, comprehensive approach to health and wellness that combines nutrition, exercise and behavioral health instruction for a full lifestyle 'reboot'.


CLICK HERE to READ MORE.



Travel to Bald Head Island and Attend Our 6 Day, Full-Immersion Wellness Programs:
This all-inclusive program offers nutrition & behavioral workshops, cooking classes, meditation, individual and group exercise classes. Enjoy three meals and two healthy snacks prepared each day by our gourmet chef.

We Are Now Enrolling
for Fall 2021 Wellness Program.
Space is Very Limited.
Sign-Up TODAY!!!
DOWNLOAD "A Typical Day" Brochure:
Look Fabulous in Your
Dream Wedding Dress
Please email us at info@bhiwellness.com for details on our 2021 Program Dates.
All women want to look great and feel beautiful on their special day! Whether you or your wedding party are trying to lose weight or just improve your overall fitness, this program is precisely what you need to become a more RADIANT BRIDE!

DOWNLOAD "Bridal BLISS" Brochure:
3 Day Wellness Programs Designed for a Healthier YOU!
DOWNLOAD 2021 Wellness Brochure:


There are no recent news items.

There are no

Upcoming Events

.